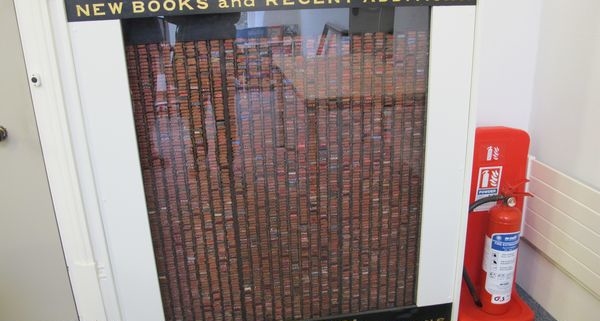 Au printemps 2018, j'ai eu l'occasion de visiter la bibliothèque Guille-Allès à St Peter Port à Guernesey.
C'était juste une petite visite de curiosité et là encore je n'ai pas regretté cette initiative.
J'ai trouvé l'entrée très accueillante, un peu comme une boutique à la mode. Il faut dire que le bâtiment est ancien et très bien restauré.
De l 'automate de prêt dernière génération
J'ai été un peu surprise par les automates de prêt qui ont remplacé le personnel. Il reste néanmoins du personnel à l'accueil et visiblement au vue de la cargaison d'ouvrages (un caddie de course plein) scanné par une emprunteuse, cet automate ne semble pas perturber le public plus que cela.
Au système de prêt du XIXème siècle, le Cotgreave Indicator
J'ai surtout découvert le Cotgreave indicator. Il tient son nom de son inventeur Alfred Cotgreave qui l'a développé à partir de 1877. A cette époque les ouvrages n'étaient pas en libre accès mais accessibles sur demande via les bibliothécaires qui prenaient place derrière un comptoir délimitant l'espace entre le stock et la salle.
Sur de petites étagères en zinc, des centaines de mini-livres témoin représentaient l'état du fonds documentaire, chaque livre étant repéré par un numéro. Ce système permettait aux bibliothécaires de savoir rapidement si un livre était disponible ou emprunté. Les coordonnées des emprunteurs étaient inscrites à l'intérieur des livres témoins. En changeant la tranche du livre témoin selon son statut, bleu pour disponible et rouge pour emprunté, les bibliothécaires et les utilisateurs visualisaient rapidement les emprunts.
Ce système de registre en trois dimensions, qui était assez populaire en Angleterre, a disparu du fait de la place nécessaire pour sa mise en œuvre et du fait de la généralisation du libre accès aux étagères. Le Cotgreave Indicator a eu cours jusqu'en 1962 à la bibliothèque Guille-Allès.
Nous voilà donc en quelques minutes dans un condensé de l'histoire du prêt en bibliothèque publique, amusant non ?!
Pour le reste, il s'agit d'une médiathèque assez classique qui a su évoluer depuis sa création en 1830 par Thomas Guille et Frederick Allès (deux amis d'enfance) tout en restant fidèle à sa vocation d'origine : regrouper dans un même espace une importante quantité d'informations et de loisirs pour les habitants de Guernesey.
Cet article a fait l'objet d'une traduction en anglais par le personnel de la bibliothèque. La traduction a été postée sur la page Facebook de la bibliothèque. Je me permets de la reprendre intégralement ci-dessous, en espérant que cette traduction anglaise fera à la fois mieux connaître la bibliothèque Guille-Allès de Guernesey mais aussi la pratique du bibliotourisme.
Translation by Guille-Allès staff members:
In the spring of 2018, I had the opportunity to visit the Guille-Allès Library in St Peter Port, Guernsey.
It was just a little visit borne out of curiosity, but I certainly didn't regret it.
I found the entrance hall very welcoming. The building is very old and very well restored.
I was a bit surprised by the self-service machines, there in place of library staff. However, there was still a member of staff in the entrance hall, and from what I saw, the public seem very comfortable with the machines.
One of the best things I discovered was the Cotgreave Indicator, on display on the second floor. It takes its name from its inventor, Alfred Cotgreave, who developed it in 1877. At this time the books were not openly accessible, but available on demand through the librarians, who stood behind a counter between the patrons and the stock.
Tiny zinc shelves bore hundreds of ledgers, each book marked with a number. This system allowed librarians to quickly ascertain if a book was available or on loan. If somebody borrowed it, their borrower number was written inside the ledger. By changing the colour of the ledger according to the book's status, librarians and library users could see at a glance if it was on loan or not.
This system, which was quite popular in England, eventually disappeared due to the amount of space it required, and due to the opening up of access to library shelves for the public. This Cotgreave Indicator continued on until 1962 at the Guille-Allès Library.
So there we are, a condensed history of lending in public libraries – amusing, isn't it?
The rest of the library feels historic, too, though it's evolved considerably since its creation in 1830 by Thomas Guille and Frederick Allès (two childhood friends). But everything remains faithful to their original vision: bringing together under one roof a large quantity of information and entertainment for the inhabitants of Guernsey.
https://www.serendipidoc.fr/wp-content/uploads/2018/08/GaLibrary6.jpg
450
600
Carole GUELFUCCI
https://www.serendipidoc.fr/wp-content/uploads/2018/05/Serendipidoc.png
Carole GUELFUCCI
2018-08-28 09:04:50
2018-09-04 12:03:57
Bibliotourisme à Guernesey