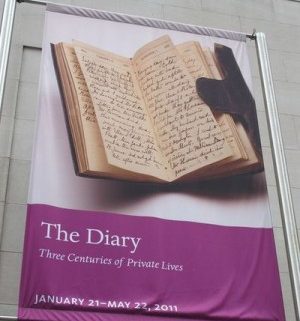 The Diary, three centuries of private lives
31 mars 2011 : The Diary, three centuries of private lives, du 21 janvier au 22 mai 2011, New-York, Pierpont Morgan Library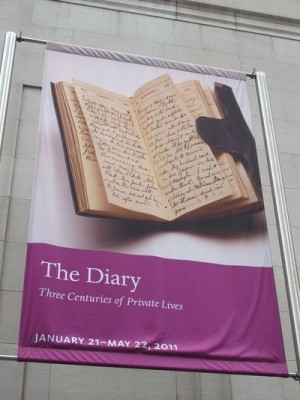 Le hasard a fait que lors de mon passage à la Morgan Library, se tenait l'exposition « The Diary, three centuries of privates lives ». Je n'ai pu que me réjouir de tomber au bon moment. J'ai surtout été surprise par la variété des journaux intimes présentés : parfois livre de comptes, album photos, carnet de lectures, carnet de dessins, carnet de notes, ces notes pouvant même être scientifiques.
Il y avait bien sûr des carnets de voyage (« a way to capture memory so it doesn't sleep away ») , dont un écrit pendant le voyage de noce d'un couple anglais autour de 1840, mais aussi divers journaux intimes, écrits pour être partagés ou pour rester intimes, pour s'aider à progresser dans la foi (Amazing Grace de John Newton) ou dans l'écriture d'un livre (Steinbeck), pour oublier un amour impossible (Dear Diary, Dear Beloved de Frances Eliza Grenfell), pour mesurer le temps qui passe (Spinning an Sausage making par Elizabeth Eastman Morgan ou Diary of a Marriage par Sophia and Nathaniel Hawthorne)…
Présentation de l'exposition :
How do we tell the stories of our lives? For centuries, people have turned to diaries to mark time, sort out creative problems, help them through crises, comfort them in solitude or pain, or capture memories for the future. Today, as we find new ways to document our unfolding lives—in blogs, online diaries, and social networks—this exhibition looks back over several centuries to explore the enduring drive to leave a trace of our passing days. The personal writings featured here—all from the Morgan's permanent collection—reveal spiritual journeys, artistic ambition, and everyday rhythms. Some were kept private, others shared with a lover or friend. Together they represent a chorus of voices—each unique, yet bridging time and experience in their expression of love, pain, loss, and joy.
Quelques citations relevées :
I have tried to keep diaries before, but they didn't work out because of the necessity to be honest (John Steinbeck writing the Grapes of wrath).

Today's mobile electronic devices retain the possibility of traditional diary while inviting new ways of entering indexing and sharing the records of our lives.
Adresse et infos utiles :
The Pierpont Morgan Library
225 Madison Avenue
At 36th Street
New York, NY 10016-3405
Métro : Grand Central
Site dédié à l'exposition sur les journaux intimes : http://www.themorgan.org/thediary (le site constitue le support de l'exposition, il est très riche).
https://www.serendipidoc.fr/wp-content/uploads/2014/07/Morgan2-e1406128434332.jpg
400
300
Carole GUELFUCCI
https://www.serendipidoc.fr/wp-content/uploads/2018/05/Serendipidoc.png
Carole GUELFUCCI
2014-07-23 16:14:30
2017-03-23 13:42:00
The Diary, three centuries of private lives